CALEB SIEMON COLLECTION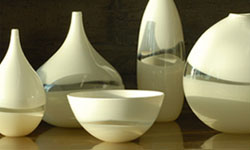 "Signature styles of thick glass and swathes of color."
The artistís signature style of thick glass and swathes of color can be seen here in this collection of glass lights and vases by Caleb Siemon. From the Rhode Island School of Design to an apprenticeship in Murano, Italy with renowned master glass sculptor Pino Signoretto, Caleb spent years developing a signature aesthetic that reflects the evolved detail of the Muranese and the balance and restraint of the Scandinavians. Now based out of Southern California, his work exhibits internationally and is featured in galleries around the world.